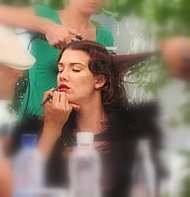 Sad to report, my girl Brittany was sent home this week on ANTM. Thank god there is only one more episode left, because without her effervescence energy and larger then life personality the show will suffer... mark my word.

My only complaint about the show (besides Brittany's absence) is all the product placement. Instead of having the girls shoot high fashion, high concept, glamorous shoots they are always attempting to sell a products, for example Caress Body Wash last night. There was a time when ANTM had the girls in couture for couture's sake. I think the show needs to head back into that direction.
Anyhow, I'll step off my soapbox now and lube up with my Jergens lotion. Damn all that product placement!!!
P.S. Brittany, I still love you and you're my top model.