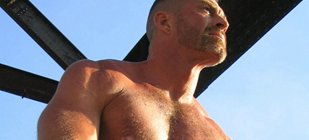 So every Monday at the View Bar Max Scott hosts a party called Woof. I've attended the party a few times and have always had a total blast, thanks to Max. He's very personable and attentive to those who attend one of his parties. Tonight's party should be a lot of fun due to the fact that it features a few remarkable men and proceeds will go to Visual AIDS (something that I helped make happen, thanks to my relationship with the next man.)
First up, is Michael Alago, who I meet at his opening at the Leslie Lohman Foundation. He photographs men who ooze masculinity and strength. If you haven't already picked up a copy of his book Rough Gods, I suggest you head out today and grab one. At tonight's party the model search will begin for the sequel to this limited edition book. In addition, he will be auctioning off a photograph to one lucky winner tonight at the party.
Finally, Colton Ford will be making an appearance promoting Naked Fame, the documentary about his transition from porn icon to singer. I was able to see the film and hear Colton speak about it while it played at the Village Cinemas. It should be interesting to see how he's progressing with finishing his album and such.
So the evening should be loads of fun and I recommend swinging by if you happen to be in the neighborhood. Hopefully I will see a few of you there, my dear readers.